POSTPONED | 2024 | Mendocino Art Center *
More is More: Overglaze Techniques on the Ceramic Surface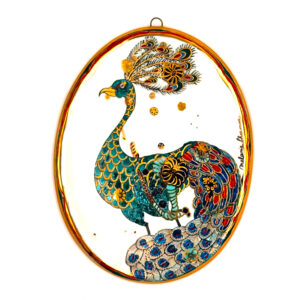 CONCEPT: This workshop is designed to marry the ceramic form with imagery, personalize the student's ceramics work, and discover new surface decoration techniques, such as chinapainting, luster and decal application. These overglaze techniques are used all over the world to finesse and highlight the surface of ceramics. Decorations are used for expressing cultural heritage, storytelling, color theory, etc. We will indulge layer after layer of ornamentation and embellishments, and then add some more.
MEDIA & TECHNIQUES: We incorporate drawings, motives, and patterns onto our work using traditional decorating methods, such as chinapainting, luster and decal application. Image transfer from paper to the 3D ceramics surface is one way of exploring different surface ornamentations. We will apply layers of decorations and transform ordinary ceramics into one-of-a-kind works of art. Students may bring their own glazed functional and sculptural or store-bought ceramic pieces and work on them. Commercially glazed ceramic tiles can be used to practice and decorate.
ACTIVITIES: Mornings will be used to demonstrate and talk about different decoration techniques. We will look at ceramics from different sources and use them as reference for our own practice. Students are encouraged to share imagery and information of their favorite ceramic timepiece that uses onglaze decorations. In the afternoon the students will focus on their own work. There will be plenty of one-on-one time to help students with their new learned skills. No prior experience is needed.