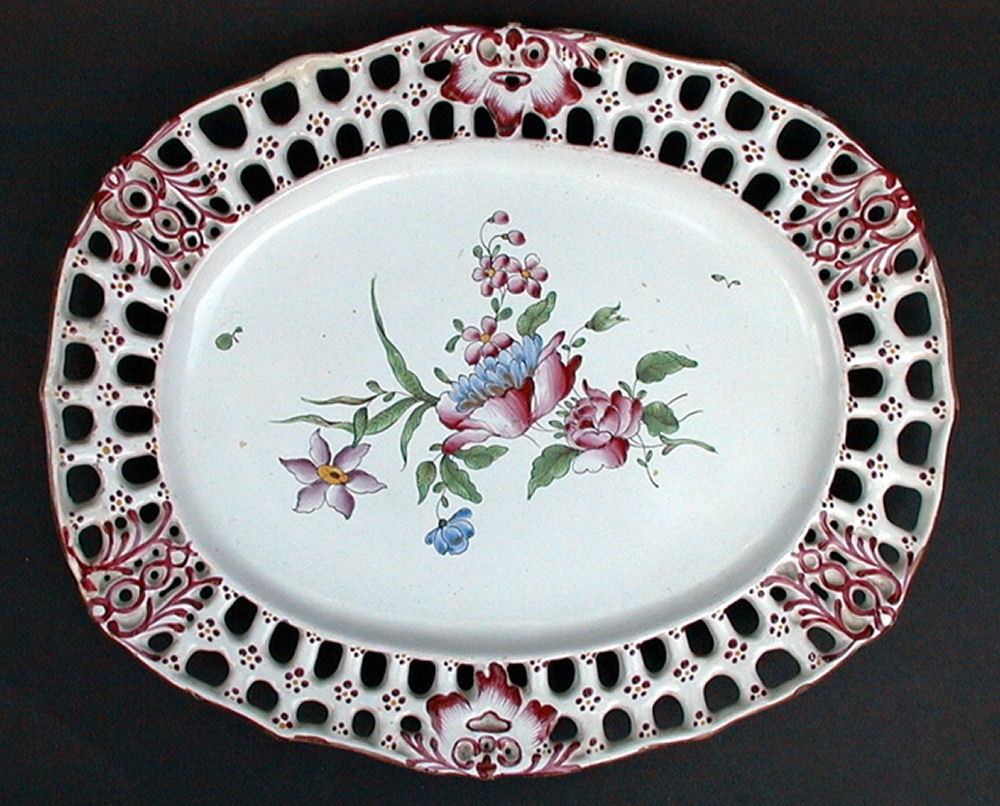 Hungary has a long tradition of porcelain-making, which flourished during the mid-nineteenth century and continues to present day.
Herend Porcelain
The Herend Porcelain Manufactory (Hungarian: Herendi Porcelánmanufaktúra Zrt.) specializing in luxury hand painted and gilded porcelain, was founded in 1826 by Vince Stingl with a focus on earthenware pottery making. He went bankrupt later on and his creditor Mór Fischer began running the company from 1839.
He seized an incredible opportunity, by manufacturing porcelain items that matched the designs of traditional Far Eastern and German Meissen tableware, to serve as replacements for broken items. Very soon Hungarian's wealthy became regular clients.
After the International Exhibitions of 1845, 1851, 1853 and 1855, Herend porcelain gained a considerable reputation for its own designs. Orders from several royal houses (Queen Victoria, Maximillian (Mexico), Francis Joseph I., etc.) started to arrive.
With these first customers, Herend's first famous patterns emerged, for Queen Victoria, Rothschild, Appony, Esterházy and Batthyányi. In 1865 Francis Joseph I made Mór Fischer part of the aristocracy, in appreciation of his superior mastery in porcelain making. That was the first successful period of Herend.
In 1874 Mór Fischer turned the company direction to his sons. This was not fortunate as artistic level declined and it almost went bankrupt several times. By the end of the XIX century, the founder's grandson brought Herend back to a high artistic level. The firm survived both World Wars while manufacturing traditional Mór Fischer products, along with figures by famous Hungarian sculptors. Communism nationalized the company, and after its fall, it was privatized in 1993. Three-quarters of the shares were distributed among employees and craftsmen.
The raw material utilized in Herend products is hard-paste porcelain with a blend of quartz, kaolin, and feldspar. It is first decorated, dried and fired at 1525 degrees Fahrenheit. Then it is glazed again and re-fired at 2570 °F. This is one of the secrets behind this extremely white, translucent Hungarian porcelain. Now it is in the painter's hands: the design receives color and gold luster and is fired one or more times afterward.
Herend porcelain has won 24 grand and gold prizes throughout international exhibitions between 1851 and 1937. One of the most recognizable Herend patterns has butterflies, and blossomed branches painted in bright colors following the Chinese tradition.
There is also a Herend Porcelain Museum, which showcases the history and techniques utilized in the Herend porcelain manufactory. People can also see the complete Herend porcelain development process.
The International Ceramics Studio in Kecskemét

I was fortunate to be twice resident at The International Ceramics Studio (ICS), a ceramic art center eighty kilometers south of Budapest, Hungary, in the town of Kecskemét. It is a peaceful city in the middle of Hungary's Great Plain, always known for its rich cultural life, numerous museums and art collections.
Founded near the end of communist rule by nonconformist artists, it made artistic freedom and international projection its primary ideals. It aims at fostering creative, formal, aesthetic and technical development, through challenges, research, and experimentation. Its open philosophy, expert professors and modern facilities provide the ideal environment for contemporary ceramists to develop innovative ideas. It is a non-profit making organization supported by Bacs Kiskun County (who founded the studio) and Kecskemét Town Council.
ICS offers an artist-in-residence program and alongside a variety of workshops, courses, and events, where ceramic artists can learn from led by internationally renown masters. The artist-in-residence is for ceramists wanting to work on their projects on their own, but also open to the creative atmosphere generated by fellow students from diverse cultural backgrounds. There are usually up to ten artists at the same time. They have 24-hour access to the clay and plaster workshops.
The studio has everything you need, including slab rollers, throwing wheels (both kick and electric), extruders, ball mills, pug mills, 17 kilns (between electric, wood and gas fired), as well as raku and salt/soda firing kilns. Artists can utilize various types of stonewares and porcelain, Creaton chamotte and the one with the outstanding translucent quality that characterizes traditional china.
As of today, over 350 ceramists from around the world have worked on it. You can get more information at www.icshu.org.
Ilona Romule
At the ICS I also learned about plaster models, casting, china-paints, mold making, and lusters with the world famous Latvian ceramist Ilona Romule. She taught me the use of a metal nib to draw fine details in the design. Learning from Ilona Romule was an enriching experience.
She received her Masters of Fine Arts Degree from the Latvian Art Academy and has been the object of international recognition for her original slip cast porcelain figures which play with 2D and 3D imagery. She works with millimetric attention to detail, drawing subjects on the sides of her pots that further extend as projections of the piece.
Ilona Romule usually utilizes ironic and erotic imagery, as can be seen in her porcelain work shapes and their china-painted decoration. She supplements her pieces with fine painting using the overglaze method. She has found a unique way to hybridize humans and animals creatively. Her talent has opened her the doors of internationally prestigious firms like the Lomonosov Porcelain Factory in St. Petersburg.
Later on, she began working at the International Ceramics Studio. After trying the exceptional quality porcelain available in Kecskemét, she continued producing most of her work there.
Ilona Romule is a member of the International Academy of Ceramics (IAC), earning awards in competitions such as the 6th International Contemporary Porcelain Triennial in Switzerland, the 2nd World Ceramic Biennale in South Korea and the first three International Triennials of Silicate Arts in Kecskemet. She also visits the US, lecturing in several ceramic art centers including the Archie Bray Foundation (Montana), Kansas City Art Institute, Kansas State University, the Southwest Craft Center (San Antonio), the Clay Studio (Philadelphia), Ohio University, The University of Michigan, University of Illinois, etc.
Ilona has lectured in universities, studios, and art centers in Finland, Australia, Turkey, and Israel, to name a few.
George Timock
During my residency at ICS in Kecskemét, I also worked under the direction of George Timock. A brilliant ceramic artist from the Cranbrook Academy of Art, he started teaching at KCAI in 1973, together with Ken Ferguson and Victor Babu. He dedicated 37 years in his career to monumental raku-fired vessels, evoking natural and architectural themes. He took significant influence from Hawaiian lava fields, which he researched and replicated.
During the past twelve years, his participation in the International Ceramics Studio in Kecskemet has exerted a fundamental impact in his work. The dialogue with fellow ceramists from different worlds cultures further sparked his creativity. His deep fascination for the clarity and purity of porcelain clay shows in his dramatic carving and etching, which displays rich, textured depth and subtle translucency.
In 2013, he was presented with the NCECA Outstanding Teaching Award and became a member of the International Academy of Ceramics (Switzerland). These recognitions simply confirm in a paper what he already established during his 49-year career in the field of ceramics. In 2015, he ceased to teach at the Kansas City Art Institute and to New Mexico, entirely dedicated to his creative endeavors.
Other noteworthy Hungarian ceramic artists
László Fekete is a Hungarian studio ceramist, graduated in 1974 from the Academy of Applied Arts in Budapest. He produces complex stoneware and porcelain sculpture, conveying a social message, sometimes decorating them with industrialized decals. He also utilizes seconds from Herend Factory.
György Fusz is a Hungarian ceramist that also studied at the Academy of Applied Art in Budapest. He builds his sculptures by hand, using a language that has abstract and figurative aspects. He was a guest artist at the Clay Studio in Philadelphia and has taken the residency at the International Ceramics Studio in Hungary. He is regarded as one of the most accomplished Hungarian ceramic sculptors.
Sándor Kecskeméti started his potter's career under the mentorship of Tamôs Lôszlô, subsequently studying at the Academy of Applied Arts in Budapest. He has taught at the International Ceramics Studio and the Academy of Applied Arts for the past 30 years. He surprises us by his massively sized sculptures, exceeding 13 feet in height. He gets inspiration from the shape of natural rocks, ancient monoliths and monuments such as Stonehenge and the British sculptor Henry Moore.
Márta Nagy, from the Hungarian Academy of Craft and Design, begun here career designing pieces for porcelain factories. She later studied under Imre Schrammel and became Doctor of Liberal Arts at Pécs University, now holding professor tenure. Her designs have been used in the Herend Porcelain Manufactory since 1996. She has been awarded multiple fellowships, including several from the International Ceramics Studio, the Ceramics Colony, Lajos Kozma, the Hungarian Academy in Rome, the Clay Studio Philadelphia, the Bavarian State Award, the Hungarian Ceramics Biennial and the 1st World Ceramic Biennial, Ichon, Korea.
Janos Probstner is a renown Hungarian ceramist and academic. He founded the International Ceramics Studio in 1978, heading it since. In 1991, together with Eva Kadasi, he organized the Symposium "East meets West" in Kecskemét.
Imre Schrammel is a Hungarian ceramist who studied at the Porcelain Department at the Hungarian College of Applied Arts. He began his career as a design adviser to the Hollóháza Porcelain Factory. He has also taught at educational institutions such as the Hungarian College of Applied Arts and the Janus Pannonius University. She acted as rector of the Hungarian College of Applied Arts and was fundamental in the establishment of the Fine Arts Master Training Institute in Pecs. She was also an artistic adviser at the Herend Porcelain Manufactory since 1996. Schrammel is also known for his relief murals and figurative sculpture. He joined the Kecskemét Group since 1980 and pioneered the Hungarian Academy of Arts in 1993.
:
References
This compilation of Hungarian Porcelain information is based primarily on my first hand experience and:
http://visitbudapest.travel/articles/herend-porcelain/
http://www.ceramicstoday.com/articles/ICS.htm
http://www.icshu.org/2016/porcelaina2z/2016-porcelainA-Z.html
http://artodyssey1.blogspot.com.ar/2013/07/ilona-romule.html
http://www.thenevicaproject.com/ilona-romule/
http://www.ceramicstoday.com/articles/hungarian_connection.htm
http://www.craftinamerica.org/shorts/kcai-ceramics-professor-george-timock-on-kansas-city/
http://ceramicartsdaily.org/pottery-making-illustrated/article/culture-mashup-contemporary-china-painting-2/