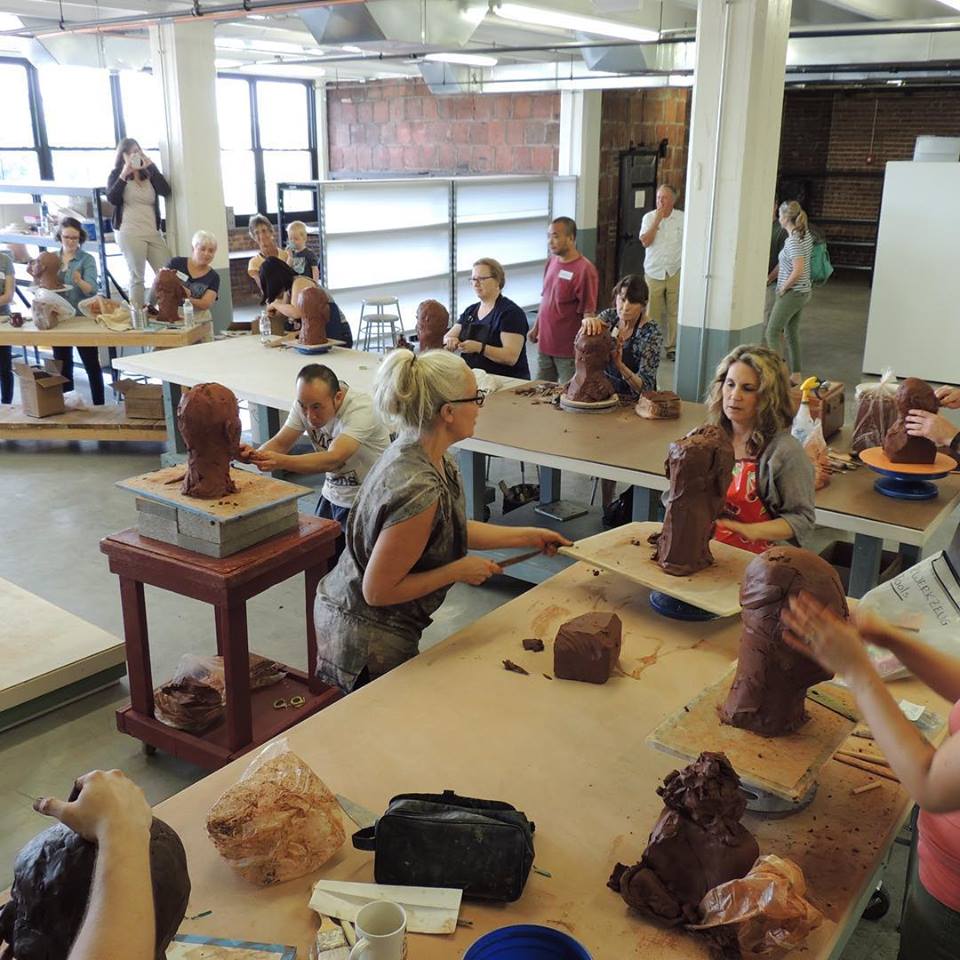 I have recently moved to Kansas City, a place I love for its rich cultural life. Here is where I received my Bachelor of Fine Arts Degree in Ceramics from the Kansas City Art Institute. As a ceramic artist, the institutes, schools, museums, galleries and exhibitions that take place all year long are constant stimuli for my creativity.
For the past 50 years, Kansas City Art Institute's Ceramics Department has developed one of the best undergraduate ceramics programs in the country. Furthermore, a host of galleries, museums, curators and collectors support this art form.
For example, the Nelson-Atkins Museum of Art has an extensive collection of over 1,300 exquisite pre-industrial ceramics. The Nerman Museum exhibits contemporary pottery and unique American Indian works. Belger Crane Yard hosts ceramics exhibits and provides residencies and ceramics classes. And the Daum Museum has a world-class ceramics collection.
For those who are not familiar with Kansas City, I will outline the most interesting venues and activities for a ceramic artist, scholar or collector.
This is where I received my BFA in Ceramics. Many outstanding contemporary ceramic artists have graduated from the ceramics program. The Institute fosters risk-taking as a learning technique while developing mastery at the craft. This is the foundation of each one's personal style. Only two requisites are unavoidable: curiosity and passion for ceramic arts.
At the base of the curriculum are forming and finishing techniques, like wheel throwing, slip casting, mold-making and sculptural building, as well as firing methods. Even before forming, the students learn to formulate their own clay and glazes mixes.
Kansas City ceramic artists have access to an extraordinary collection of ceramic pieces that serve as a reference for best practice. Graduates then continue with graduate programs or start their career as studio ceramists.
I participated in juried ceramic exhibitions "Flux" (2012) and "Hot Box" (2013), and I was on the "Dean's List" from 2012 to 2014.
Related to the Kansas City Art Institute, the H&R Block Artspace opened in 1999. It is a high profile exhibition venue, showcasing student, faculty and alumni work as well as established artist's pieces. Its mission is to function as a teaching museum for the Kansas City Art Institute, providing access to prominent contemporary artists.
To date, it has organized over 100 exhibitions featuring national, international and Kansas City artists. It also supports publications, educational programs, public art projects, professional and partnership opportunities and assistance for collectors.
Gifted in 2015 by Margaret Silva (former board member), this building used to house Grand Arts for two decades. It has two galleries, a large studio, and an artist-in-residence lodging. The KCAI Gallery enables the Institute to have a presence in the Crossroads arts district.
Its grand opening was in April 2016, with "Chromaphobia & Chromaphilia," two simultaneous exhibitions that explore the presence and absence of color in contemporary ceramics. Both exhibitions featured Kansas City ceramic artists.
It will also host the KCAI artist-in-residence program. Academic programming will be built by a faculty committee and will be led by Michael Schonhoff, the new director.
Museums Exhibiting Ceramics in Kansas City
It has a permanent collection of over 700 ceramic pieces ranging from Greek amphoras to contemporary works, passing through Northern Wei, Tang and Song Chinese dynasties, Japanese, 18th-century French manufactories, Meissen, as well as some African and Northern American Indian ceramics.
The State Fair Community College received Dr. Harold F. Daum's collection of over 200 paintings and ceramics in 1999, to establish a museum of contemporary art. For Kansas City ceramic artists and pottery enthusiasts, it presents the opportunity to appreciate abstract sculptural works by Peter Voulkos, Jim Leedy, Ken Ferguson and Jun Kaneko.
Now the collection exceeds 1,500 works from contemporary artists, from Pop art and Neo-Expressionism to Color Field painters and other diverse styles from the past two decades. Its permanent ceramics collection includes over 150 pieces.
Since its opening in 1994, the Kemper Museum has been receiving over 100,000 yearly visitors and is Missouri's largest contemporary museum. It comprises 3 locations: an iconic building designed by Gunnar Birkerts, where the permanent collection and the most extensive exhibitions are shown, an administrative location one block away with galleries on its first floor called Kemper East, and a third building at the Crossroads Art District, with special exhibitions and programs.
Admission to all three locations is open to the general public and free of charge.
This museum has a permanent collection which can be appreciated in several galleries and in special exhibitions. It displays almost 400 works throughout the college campus, immersing students in art in their daily activities.
For ceramic artists in Kansas City and public in general, it provides the opportunity to come in contact with Jim Leedy or Rudy Autio's work.
Taking as a reference Southwest Boulevard and Baltimore Avenue, the Crossroads District extends southwards to the Freight House District, north to I-70, east to Truman Rd and west to I-35. The name Crossroads Arts District consolidated during the 1980's and became its official name by 2001. What started as small artist studios and galleries area has now become a reference point for creative arts. It is one of the busiest gallery districts in the US. Surrounded by abandoned warehouses and historic buildings in what used to be the Film Row, it also includes modern offices, event spaces, and a diverse culinary offering. Nowadays, over 400 Kansas City artists and 100 independent studios in every discipline coexist, giving rise to a lively community.
The iconic event in the Crossroads District takes place every first Friday of the month, when thousands of tourists and locals crowd the streets and visit the galleries, studios and art organizations, and after 5 pm, live entertainment can be enjoyed. The variety is impressive: you can buy a painting for a few dollars or five figures.
The night continues with late dining at the numerous restaurants in the area. You can breathe art as you watch live theater, aerial performances or listen to hot jazz or soul.
Although it may be hard to find parking space, there is additional room at the TWA Building, in the Arts District Garage close to the Kauffman Center or in private lots.

One of the newest galleries in Kansas City's Crossroads District. It features works from contemporary Kansas City ceramic artists, painters, sculptors and photographers. Some of my work is displayed there.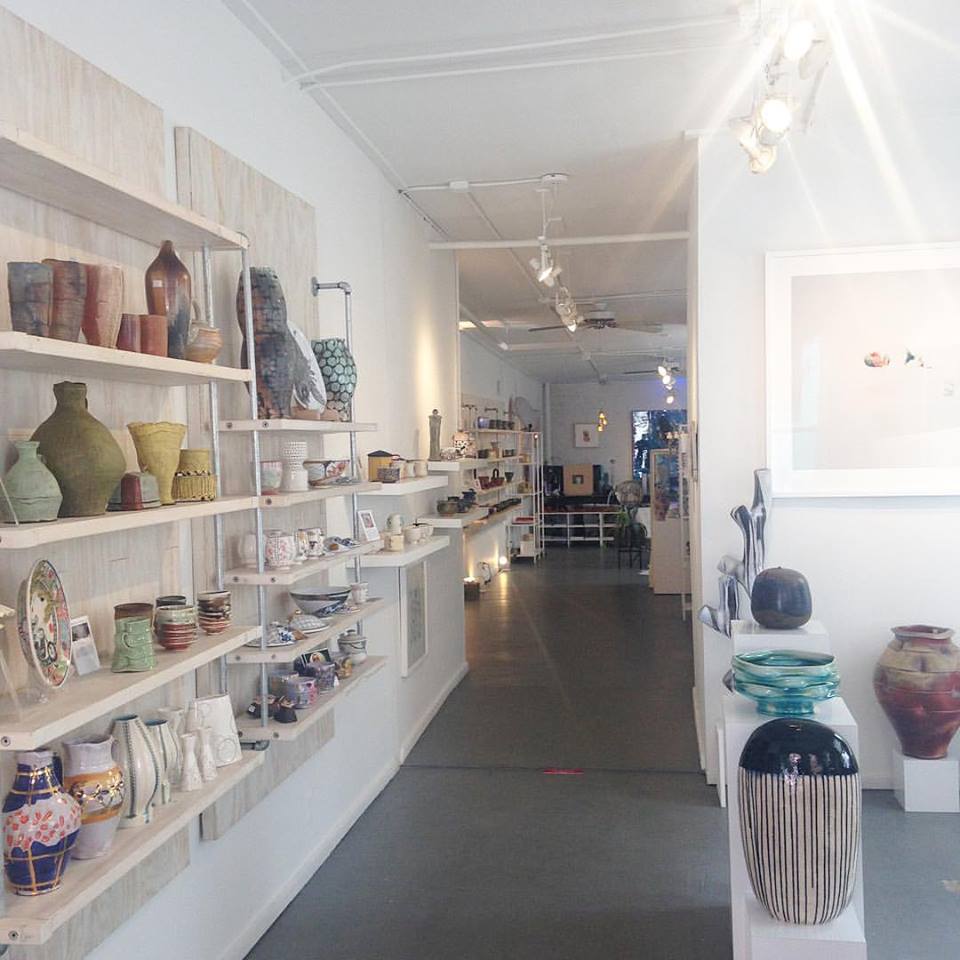 Founded by John and Maxine Belger-s family, its purpose is to educate the public on the work of artists William Christenberry, William Wiley, Terry Allen, Renee Stout, Terry Winters, Robert Stackhouse, and Jasper Johns. Their whole careers can be observed allowing to study their creative paths. They also curate new exhibitions and partner with other organizations in artistic events. All of this is free to the public. They are located in the Kansas City Crossroads Arts District.
Red Star Studios was founded in 1998 with the goal of supporting Kansas City ceramic artists and connecting them with the community. As of today, it is an iconic source of handmade objects and functional ceramics.
They also run an Artist in Residence program that has gained national recognition. It enables ceramic artists to expand their body of work or venture outside of their routine studio practice. They interact with fellow artists through creative dialogue. They participate in teaching classes or workshops, critiques, and public presentations.
I participated in "Schema: A Journey Through Traditional Patterns and Imagery" held in this art space during 2015, and in "Every Semester: Collecting KCAI Ceramics 1995 – 2015" and "Home Base".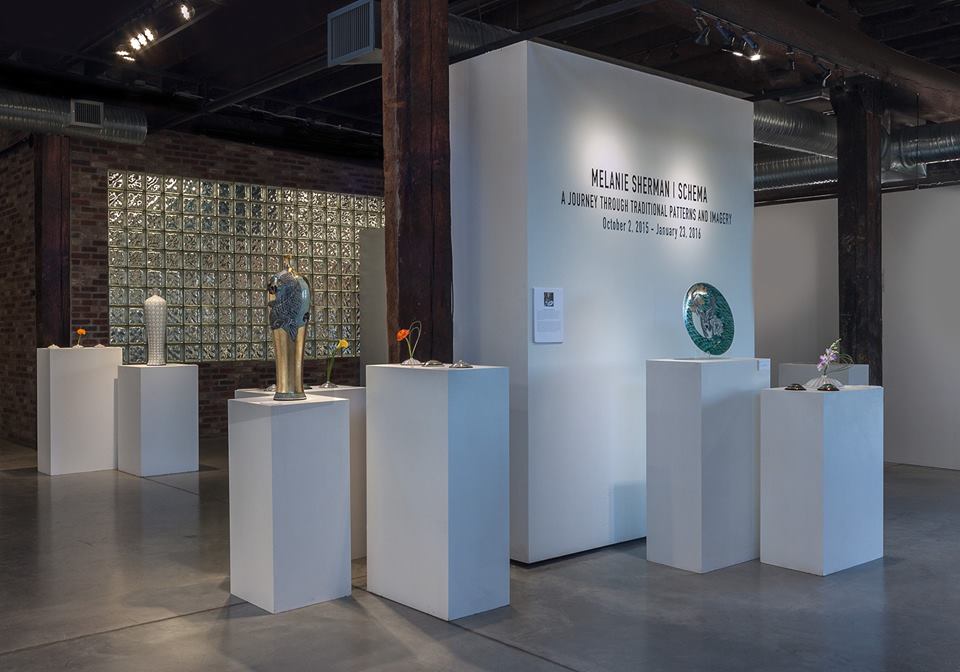 For the past 30 years, this art center founded by Jim Leedy (one of the most acclaimed Kansas City ceramic artists) has been the home of world-class artwork by the local creative community of photographers, designers, printmakers, craftsmen, painters, sculptors, ceramicists and more. Established artists share their resources with rising talent during First Fridays to help them gain visibility. There are international, national and regional artists' exhibitions while always being open to supporting local talent.
This gallery has been presenting quality pieces from emerging and well-established artists for nearly 30 years, gaining recognition in the local art community. It takes an active role in Kansas City's First Fridays, and opens its doors to the public, introducing new exhibitions and projects, on every first Friday of the month.
In 2016, I participated the "Red – HotShop" exhibition held in this gallery.
A well-established space in Kansas City's art scene, Blue Gallery has been hosting several rotating group exhibitions for the past 13 years. It has developed long-term ties with renown local artists, such as painter and light installation artist Lisa Lala, and artist collective KOLLABS, which presents mixed media artwork. It can be found in KC's Crossroads arts district.
An endeavor by the City Of Kansas City, Art in the Park presents public performance art by local artists. It is available from mid-June until late September with performances around midday on the fourth Friday of each month.
Downtown Kansas City residents, visitors, and employees will witness an original temporary art display starting in June of 2016. Local emerging and renown artists will reach out extend their reach outdoors, in a curated exhibition in Oppenstein Park near 12th and Walnut Streets.
The ArtsKC gallery, situated in the Crossroads Art District, enables visitors to get acquainted with works by local Kansas City artists at different career levels. Through business patronage, artist participation and public involvement, they aim to enrich Kansas City's cultural scene.
Created in 1976, the Kansas City Artists Coalition is an organization managed by artists, for artists. Their aim is to advance visual arts in Missouri and generate professional opportunities for local artists. Its activities are events, exhibitions, and residencies where the common denominator is free experimentation. It usually presents works at the Malling Gallery, the Underground, and the Jacqueline B. Charno Gallery.
The Artists Coalition is the home to the Kansas City International Residency, providing a supportive environment for individuals who want to work and engage with the Kansas City community. Furthermore, they benefit from intercultural immersion and develop friendships.
Brief Overview of Kansas City Ceramic Artists
Misty Gamble's work is inspired by the human figure and its infinite capacity for communication. Gamble's current work, life-size ceramic figurative sculptures, and installations of multiple figurative fragments, focuses attention on issues surrounding femininity and challenges conventional standards of morality, normalcy and propriety.
Misty is the recipient of a number of honors including awards from the Martin Wong Foundation, National Conference for the Education of Ceramic Arts and the Ellice T. Johnston Foundation. Misty has been awarded long-term residencies at Watershed Center for the Ceramic Arts, where she earned the Howard Kottler Fellowship, and the Armory Art Center in West Palm Beach, Florida. In 2008, she received an artist grant from the Ruth Chenven Foundation and was honored as a Ceramics Monthly Emerging Artist. Gamble was also invited to lead an Artist-Invite Artist Residency at Watershed and was an invited artist at Project Art in Cummington, Massachusetts. In 2014, Gamble was an invited artist at C.R.E.T.A Rome and has continued to study or teach in Italy since 2013.
Gamble is the co-founder of Studio Nong: International Sculpture collective and residency program. Studio Nong travels to China (2013,2016) and Europe to accomplish residencies that focus on figurative clay sculpture. She is also an Assistant Professor in the School of Foundation at the Kansas City Art Institute.
Cary Esser received her MFA from New York State College of Alfted University and her BFA from the Kansas City Art Institute, where she is Professor and Chair of Ceramics. The ceramic artist is in numerous public and private collections including; Daum Museum of Contemporary Art, Sedalia, MO; North Carolina Arts Council Artworks for State Building; First National Bank, Columbia, MO; Montgomery Council, Maryland, Art in Public Architecture; Archie Bray Foundation and the John Michael Kohler Art Center, Sheboygan, WI.
"I use the traditions of architectural ornament and ceramics to interpret my perceptions of human culture and the natural world. Ancient symbols and motifs that include representations of plants and animals, geometric patterns, and shields are of particular interest to me. For centuries these motifs have been recycled and reinterpreted from the viewpoints of many cultures. By the early twentieth century the continued recycling of these images, and their mass production
through the machinations of the Industrial Age in Europe and North America, led to the consumption of their meanings as a viable visual language. My work for several years has revisited the forms and knowledge of the historical language of architectural ornament. I see evidence of this lexicon around me everyday in the embellishments on older buildings of Kansas City."
"In 1992-1997 I pursued my BFA at the Kansas City Art Institute and graduated with a dual major in Sculpture and Ceramics. Upon completion of my MFA in 2005 with a dual Sculpture and Ceramics emphasis, I attended the Jingdezhen PWS Experimental Factory residence in Jingdezhen, China. Attending a second residence program in Shenzhen at the First Art Bank extended my first work period in China to 1 year. Working in China expanded my awareness of how artwork can function, and dysfunction, as a link between language and cultural zones, i.e. the East and West."
"I have a studio in Jingdezhen and Shenzhen, China, and in Kansas City, USA. I am very curious about the global migration of ornamental styles throughout history, leading right up to the present time. Inter-cultural influences can be learned from studying historical trade routes, on which decorative styles migrate the Earth like immortal flocks of birds, sneaking under the barriers of culture, language, and tradition without rest or singular plan. And now, what is a trade route? It's not necessarily a physical thing anymore."
"Currently, I am developing Public Art for several municipalities in the US, as well as numerous private commissions. This year I am designing Public Art for two property developments in Shenzhen, China, as well. I have recent exhibits in Kuwait, New York City, Kansas City, Des Moines, Shanghai, Beijing, Shenzhen, and Vallauris, France."
Brett Reif is a ceramic artist who lives and works out of Kansas City, MO. Influenced by arte povera, Reif specializes in non-traditional media wall work, sculpture, and installation. Currently, Brett Reif is in a 3-year residency at The Studios Inc. in downtown Kansas City. Reif has had solo exhibitions at the Kansas City Artists Coalition in Kansas City, the Du Mois Gallery in New Orleans, the Chalmers Hall Gallery at the The University of Kansas School of Art in Lawrence, KS, and at The Studios Inc in Kansas City, MO. Reif has also recently shown work in group exhibitions at the H&R Block Artspace in Kansas City and Leedy-Volkous Art Center in Kansas City. His work was also recently featured in the online magazine Perversionmag.com.
Originally from New Orleans, Louisiana, Reif graduated from Loyola University with a BFA and received his MFA from the University of North Carolina at Chapel Hill. Brett Reif is an Associate Professor of Foundations at the Kansas City Art Institute.
Peregrine Honig (b. 1976) was born in San Francisco and attended the Kansas City Art Institute. She currently lives in Kansas City where she creates artwork and owns a lingerie and swimwear boutique called Birdies. Her work is being feverishly collected throughout the United States and is already in major permanent and private collections such as- The Art Institute of Chicago, Yale University Art Gallery, The Fogg Art Museum, Milwaukee Art Museum, Whitney Museum of American Art, 21c Museum Hotel, Albright-Knox Art Gallery, The Diane and Sandy Besser Collection, and Ball State University Museum of Art. Peregrine Honig came in second place on the first season of Bravo's Work of Art: The Next Great Artist.
"The home is sincere because it is an environment where we can be ourselves. It is the place where how we live is a reflection of who we are. We create domestic values through the objects we choose to collect and how we decorate our surroundings. Functional pottery is important to me as a vehicle for expression because it operates within this landscape. I am interested in integrating my work into people's lives because of the proximity between (the) user and object. Through use and display, pots will impart meaning that will change the user's relationship with the work. The objects we interact with on a daily basis can conjure experiences in our lives often becoming an article of sentiment. I intend to create work where there is a similarity between pieces, but everything is unique in some way. Variability is one of the potter's strength in terms of designing work. Crafting an eclectic array of dishes is a response to the ubiquity of objects sold through chain stores."
"While my work ranges in scale from dainty diminutive pedestal objects to large sprawling installations, there is a common thread that runs through these seemingly disparate bodies of work. My ideas are spurred by an analytical interest in the ironies associated with excess and class, which become interpreted visually through color, pattern and decoration. I freely borrow stylistic embellishments and motifs from the decorative arts and combine incongruous elements to create work that pushes decorative eclecticism to a point of excessive overindulgence. This allows the work to transcend itself, re-compose itself and find a new coherence."
"I grew up in Detroit Rock City in a household that was very supportive of the arts. My mom is a painter/printmaker and has helped run a co-op gallery for over 20 years. I ended up going to Kansas City Art Institute for undergrad and finished my BFA in 2001. Then I moved around a bit to various ceramic studio opportunities such as The School for American Crafts at RIT and Watershed Center for the Ceramic Arts. I went to The Ohio State University for grad school and finished my MFA in 2008. I've lived in Kansas City, MO since finishing grad school.
I decorate my work using paper stenciling and thermofax screen-printing with underglaze to add most of my layers. Almost of all the color and pattern is put on the piece before the bisque firing, but one last final iron oxide decal layer or china paint decal layer is applied and fired after the glaze firing. Each piece is fired at least 3 times. My forms are simple and clean to contrast the complex surface decorations. Although my formal language is minimal, my approach to surface decoration is "more is more." I layer these designs and decals to make an intricate, complex surface that would not be possible with only a single layer of pattern. It is a challenge to know when a piece is finished, because my tendency is to fill all the blank space. Decorating is my driving force at the moment; it's all I want to do!"
Chandra DeBuse is a ceramic artist that now lives in Gatlinburg, TN where she is a resident artist at Arrowmont School of Arts and Crafts. After receiving a degree in psychology, she discovered her love of functional pottery while taking a community wheel throwing class. She was a special student at the University of Nebraska – Lincoln before receiving her MFA from the University of Florida in 2010. Following her graduate degree, Chandra completed a nine-month residency at the Armory Art Center in West Palm Beach, FL where she taught adult and children s clay classes. Chandra s pottery incorporates bouncing lines, candy colors, low relief and hand-drawn imagery. She was named an Emerging Artist by NCECA and presented a lecture about her work at the 2012 Seattle conference.
"My functional pottery incorporates narrative imagery, pattern and form to amuse and delight the user, imparting a sense of play. In practice and product, my work reflects an approach to make-believe through discovery. I incorporate bouncing lines, candy colors, low relief and hand-drawn elements into my ceramic service ware, encouraging exploration through use. The determined characters that star in my work dwell within landscapes of leisure. These illustrations employ exaggeration, humor, and metaphor to facilitate the viewer's ability to capture the narrative and apply it to his or her own life."
Ceramic artist Jana Evans received her BFA from Southern Methodist University in Dallas, TX with a concentration in Ceramics. She furthered her studies at Penland School of Crafts in North Carolina and also worked as a studio assistant to ceramic artist Jerilyn Virden. She then moved to Lincoln, NE as a Post‐Baccalaureate student in Ceramics at the University of Nebraska, Lincoln. In 2010, Jana received her MFA at Arizona State University in Tempe, AZ. Evans is currently a resident artist at the Archie Bray Foundation in Helena, MT.
"My work revolves around the familiarity that is inherent in handmade vessels. I attempt to generate an intimate relationship of use by reaching out to others in the form of a handmade cup, bowl or jar. While the bowl holds nourishment, the jar keeps and protects, and the cup communes with the mouth, I use the implications of these objects to generate sociability and signal identity. For me, handmade objects act as a means of communicating to the user through form, function, surface and relationship. The objects aim to affirm that the value of their experience and the object go hand in hand."
Alex Watson is a ceramic artist that creates earthy, modern pottery with clean lines and tactile details that add grace to any home, To see, touch and experience Alex's pottery is a moment will be cherished for anyone who enjoys that perfect cup of coffee, the perfect sip of whisky or a stunning display of flora or fruit in a modern vessel.
"My goal is to make a simple well-designed object, a pot that is modern and elegant, yet still very utilitarian and user friendly. The details of the pottery are key to its success. From the surface, to the weight of the pot, I try to consider every aspect of each functional object. I choose to use terra cotta because of its warm tones, and when paired with slip, its warmth softens the colors. The red detail found in most of my pots is there for visual stimulation."
Erica Iman makes hand-built, one-of-a-kind vessels that are often reflective of forms or fragments found in nature. She enjoys the raw material properties of clay and minerals and is continuously experimenting with these materials and processes to advance her work.
Erica received her BFA in Ceramics and BSE in Art from the University of Missouri Columbia in 2005 and obtained her MFA in Ceramics from Southern Illinois University Edwardsville in 2012. Between earning her degrees she served 2 years in the U.S. Peace Corps on the Eastern Steppe of Mongolia and was a selected participant in the International Workshop for Ceramic Arts in Tokoname,(IWCAT) Japan program in 2007.
Erica has taught in various schools and community arts centers and is currently a studio artist in Kansas City and a founding member of the KC Urban Potters. The ceramic artist was awarded second place in the San Angelo National Ceramic Competition with the work being purchased by the San Angelo Museum of Fine Art, was selected for the 2013 NCECA Biennial Earth/Energy, and recently received an honorable mention in the 10th International Ceramics Competition, Mino, Japan.
"References to landscape and natural phenomena are often evident in my forms and working processes. The forms are abstracted yet resemble the geological features of their origin, such as glacial ice or weathered rock. By creating work using the material's inherent properties and mimicking processes from nature, I am searching for the essence of the material's structure and the qualities it naturally possesses."
Linda Lighton received a BFA with honors from the Kansas City Art Institute in 1989. She studied painting and ceramics, 1976-1978, at the University of Idaho and was on the Mortarboard Society. From 1974-1976 Lighton lived on the Colville Indian Reservation in Eastern Washington State. She attended The Factory of Visual Arts in Seattle, Washington from 1971-1974.
Lighton has had more than 54 solo shows since 1974 and participated in more than 150 group exhibitions including the 1st World Biennale in Icheon, Korea, 2001; Internatio nal Bienal de Manises, Valencia, Spain, 2006; World Clay, Latvian National Museum, Riga, Latvia, 2006; Fule International Ceramic Museum, Fuping, China, 2008; and Ariana Museum, Geneva, Switzerland. Lighton received the Missouri Arts Award in 2008. In 2011 she was honored to receive the Award for Excellence in the Visual Arts and Education from the Kansas City Art Institute.
Linda Lighton is a member of the International Academy of Ceramics. She has had the opportunity to represent the United States at numerous symposiums and residencies: Anadalu University, Eskisihir, Turkey, 2011; Fule International Ceramic Museums, 2008; Israeli Ceramic Artists Association and Binyamini Foundation, 2005; International Ceramic Workshop, Kekscemet, Hungary, 2002; International Workshop for Ceramic Artists in Tokonome, Japan, 1996; International Symposium, Latvia, 1998 and 1992; and at the Jiesia Bone China Factory Symposium, Kaunas, Lithuania, 1996.
Lighton is a fervent arts advocate and activist. She has worked on many boards in her community; helping to instigate the One Percent for Arts Program in Kansas City, and serving on numerous boards over the years: Young Audiences of Kansas City, Friends of Art, Nelson Atkins Museum, Review Magazine, Kansas City Ballet, and National Council for the Education of the Ceramic Arts, Kansas City Jewish Museum Board. She currently serves on the National Committee at the Kemper Museum of Contemporary Art, and administers the Lighton International Artists Exchange Program.
Linda Lighton's work is in many national and international collections: Nelson Atkins Museum, Kansas City, MO; Kemper Museum of Contemporary Art, Kansas City, MO; Daum Museum, Sedalia, MO; Spencer Museum, Lawrence, KS; Icheon International Ceramic Museum, Icheon, Korea; Fule International Ceramic Museum, Fuping, China; Ariana Museum, Geneva, Switzerland; Johnson County Community College, Overland Park, KS; and University of Ohio, Athens, OH.
Lighton currently works as a ceramic artist in a large warehouse in Kansas City and rents space to other artists.
These are some of Kansas City ceramic artists that I could feature in this first version of the post, though the list is not exhaustive and I know there are many missing. I just did not have the time to include them yet. This article will expand to feature more talented contemporary ceramists.