In Kansas City, You'll Soon Be Able to Sleep in a Former Brewery
by ERIN FLORIO
August 8, 2018
Original Article [Here]
It doesn't get much more 'Heartland' than that.
Kansas City is so hot right now. On the heels of the Queer Eye news (the Fab Five will film season three there) and the 21C opening, Aparium, one of the boldest American hotelier groups out there, has announced that they, too, are moving into Missouri's largest city. Their Crossroads Hotel is set to open in the Crossroads Arts District this October.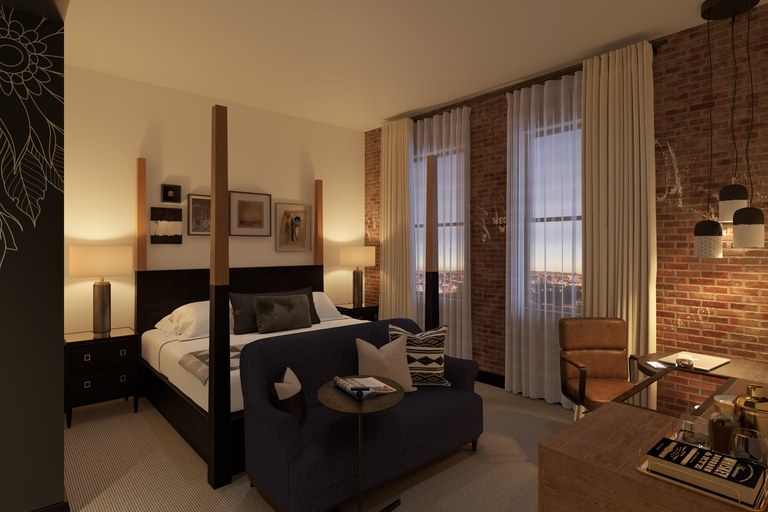 "Kansas City is a natural next destination for our brand as we look to plant our roots in the most exciting cities around the country," said Kevin Robinson, co-founder of Aparium in a statement. Aparium, the group behind the Hewing, inside an old Minneapolis warehouse, and Traveler Hot Lister, Foundation in Detroit, has a knack for creating hotels that become harbingers of a city on the up, and Crossroads is certainly set to play up KC's own nascent sense of cool. The Chicago-based hotel group took over KC's former Pabst Blue Ribbon plant (Williamsburgers, take note), enlisted local tattoo legend Mikey Wheeler to design the wallpaper, and an in-room private bar menu leans heavy on whiskey from local distiller J.Reiger.
There are nods to the neighborhood—a walkable section near downtown with dozens of museums, galleries and movie studios from KC's era as a backdrop for Hollywood—and local art scene as well. The four-level hotel will have a 2,000-square-foot gallery space (nothing to shrug at, but a third of the space found across town at 21c), while Missouri artist Melanie Sherman has created hand-painted ceramic light fixtures for 131 guest rooms and public spaces, including rooftop and lobby bars, three restaurants doing pizzas, steaks and modern Italian, and billiard halls, serving local craft beers on tap. Though we'll go out on a limb and say plenty of cold PBR will be available, too.