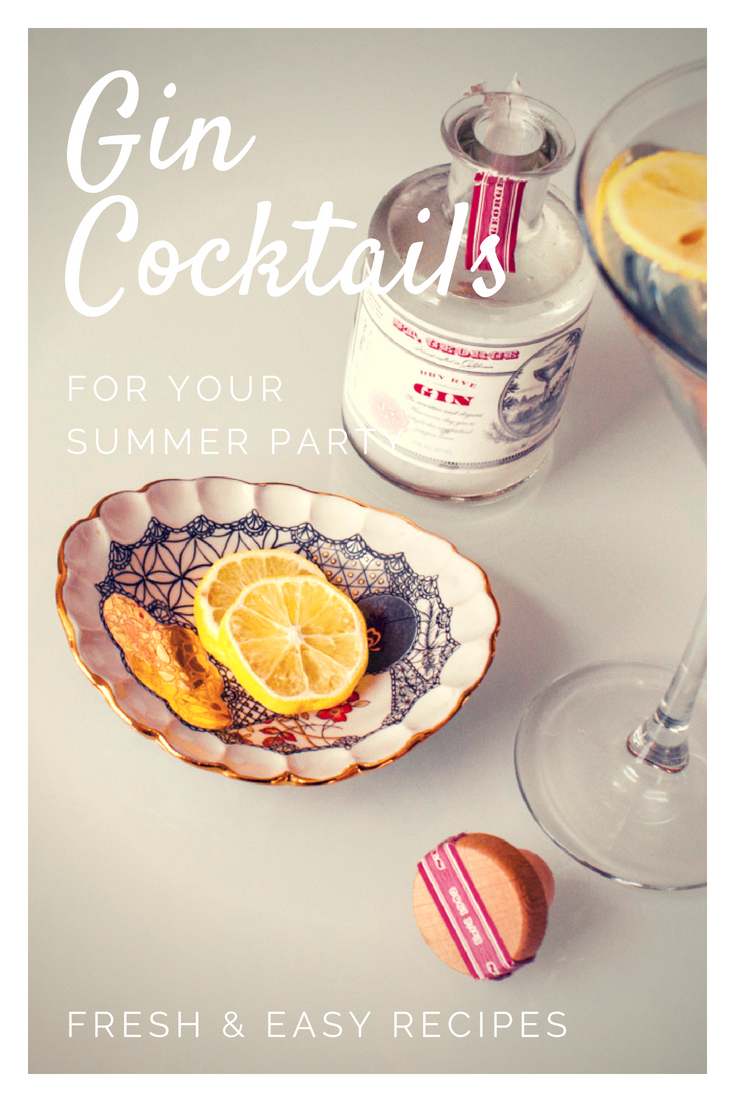 My favorite cocktails are made with gin. I am not a big drinker, but I think Gin has a refreshingly crisp taste. It has evolved from its original purpose as a medicinal drink to a selected choice of beverage for any connoisseur. It derives its main flavor from Juniper Berries, but there are many variations that pair great with the juniper.
Because of its botanical flavor profile, it goes well with tart flavors and is not too sweet when you add a little bit of sugar, grenadine or simple syrup to the mix. Gin comes in many different notes, dry, flowery, earthy, etc. and can, therefore, be nicely paired with a wide variety of liquids to make an interesting summer cocktail for your backyard party.
Gin & Champagne
2 oz gin
1 oz lemon juice
1 tsp sugar or simple syrup
Shake in a martini shaker filled with ice
Fill into a champagne glass with a piece of lemon peel
Top off with champagne
Gin & Ginger Ale
2 oz gin
2 oz ginger ale
Shake in a martini shaker filled with ice
Fill into a glass with ice cubea
Add a wedge of lime
My favorite spirit comes from the gin experts of St. George's in California:
| St. George's Botanivore Gin
Botanivore, our "botanical eater," is comprised of 19 different botanicals working in concert. Think of a meadow in bloom—herbaceous, fresh, and elegant.
What's in it? Count with us… angelica root, bay laurel, bergamot peel, black peppercorn, caraway, cardamom, cilantro, cinnamon, citra hops, coriander, dill seed, fennel seed, ginger, juniper berries, lemon peel, lime peel, orris root, Seville orange peel, star anise!
| St. George's Dry Rye Gin
A base of 100% pot-distilled rye makes this a gin for whiskey lovers—and for gin im-purists willing to take a walk on the rye side.
Think genever, then think again—and brace yourself for a gin with structure, spice, and an impossibly rich mouthfeel.
We also make a limited-release, barrel-aged version we call Dry Rye Reposado Gin. Rested in French and American oak wine casks, it has a lovely pink hue and a deep, rich flavor that we think of as an offering to the gods of gin, whiskey, and wine!
| St. George's Terroir Gin
An ode to the wild beauty of the Golden State.
Forest-driven and earthy, Terroir is a profoundly aromatic gin with a real sense of place. We wanted to make a spirit that conveyed what we love about the monumental groves of trees, moist and misty glens, and sun-baked chaparral of our favorite local parklands.
With Terroir Gin, we try to take you there with Douglas fir, California bay laurel, coastal sage, and other evocative botanicals. Sip it and be transported.