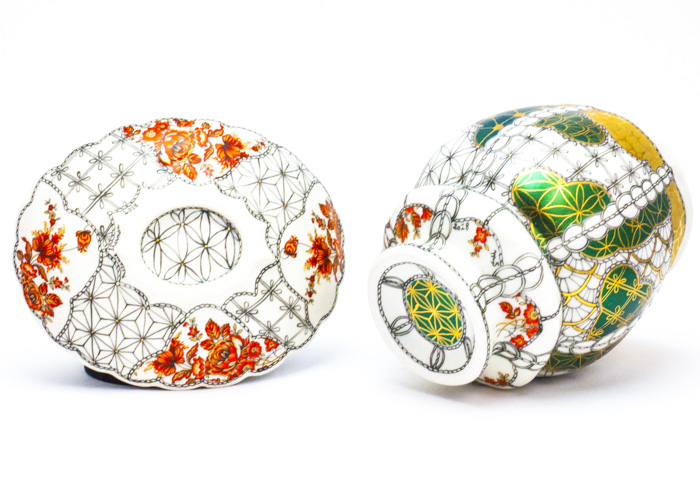 HAPPY Thanksgiving! It's been a while since I had the time to write a newsletter to let you all know what has been going on in my studio. I've been super busy making work for several exhibitions and I've also been selling my ceramic jewelry within the greater Kansas City community. It's been a busy year, but as my schedule is winding down a bit I get to enjoy the change of seasons – although I have to admit, I am neither a winter nor a Christmas enthusiast, I do love it when the temps are crisp in the morning and I can test out new stew and soup recipes and prepare a hot cup of tea to go with my traditional German Schokoladenlebkuchen (chocolate gingerbread cakes). ENJOY!
CERAMIC JEWELRY
[SHOP HERE]

The shop is filling up with more Ceramic Jewelry and exclusively for all of my Newsletter subscribers, I am offering 15% off every purchase when you sign up HERE

Come to our gallery to view and try on these handmade porcelain jewelry pieces in person:

Cerbera Gallery
2011 Baltimore Avenue
Kansas City, Missouri 64108
844-202-9303
info@cerberagallery.com
www.cerberagallery.com
BLING
. .
. Holiday Bling!
at Red Lodge Clay Center in Red Lodge, Montana
[SHOP HERE]

Use discount code BFCM15
(valid only Nov 23-26)
to get 15% off every purchase!!!
Come get your Bling on with this fabulous line-up of artists in our annual cash'n'carry
holiday show.
Featuring: Pattie Chalmers, Wesley Harvey, Bryan Hopkins, Meredith Host, Yoonjee Kwak, Melissa
Mencini,
Yoko Sekino-Bove, Melanie Sherman and Liz Quackenbush.
For all you locals, the Red Lodge Holiday Stroll is on Friday, Nov 30 and on Saturday, Dec 1.
CUP: The Intimate Object XIV
at Charlie Cummings Gallery in Gainesville, Florida
[SHOP HERE]
La Mesa "Garden Party
at Santa Fe Clay in Santa Fe, New Mexico
[SHOP HERE]
The 15th Annual Ceramics Invitational
Abel Contemporary Gallery
6858 Paoli Rd. Paoli, WI 53508

phone: 608-845-6600
info@AbelContemporary.com


[Call or email to inquire about my work!]
b1iNG!
Curated by Kathy King
at Plough Gallery in Tifton, Georgia
[SHOP HERE]
Clay + Metal
b1iNG!
Curated by Kathy King
at Plough Gallery in Tifton, Georgia
[SHOP HERE]
Clay + Metal
Holiday Show.:2018: Americano Invitational


Opening November 30th, 2018




at Clay Akar in Iowa City, Iowa


[SHOP HERE]

Participating Artists: Kurt Anderson, Mark Arnold, Noel Bailey, Ben Bates, Eric Botbyl, Jessica Brandl, Wayne Branum, Mary Briggs, Dawn Candy, Neil Celani, Mark Chuck, Mike Cinelli, Andrew Clark, Naomi Clement, Michael Connelly, Nick Devries, Josh DeWeese, Susan Dewsnap, Justin Donofrio, Eric Van Eimeren, Carole Epp, Paul Eshelman, Stuart Gair, Mike Gesiakowski, Autumn Higgns
, Bandana Pottery, Erica Iman, Tom Jaszczak. Maggie Jaszczak, Myungin Kim, Simon Levin, Renee LoPresti, Lesley Mcinally, Lorna Meaden, Didem Mert, Doug Peltzman, Ron Philbeck, Sarah Pike, Dow Redcorn, Lindsay Rogers, Justin Rothshank, Masa Sasaki, Melanie Sherman, Stacy Snyder, Will Swanson, Charlie Tefft, Theo Uliano, Lars Voltz, Joyce St Clair Voltz, Logan Wall, Alea Walter. Nick Weddell and Melissa Weiss.
Reinventing the Classics
Modern Functional Ceramics Based on Historic Styles

Featuring: Blair Clemo, Melanie Sherman, and Mike Stumbras
Opening Dec. 1st
In Tandem Gallery | 20 North Mitchell Ave | Bakersville, NC 28705
www.intandemgallery.com
[available at In-Tandem-Gallery starting December 1, 2018]
If you have any questions, please feel free to contact me: info@melaniesherman.com