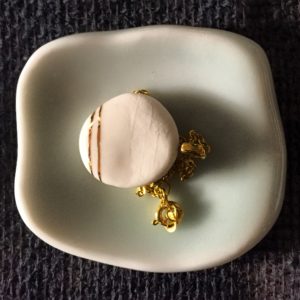 An elegant way to wear porcelain! These porcelain "tokens" were decorated with a gold luster and then designed into rings, pendants, brooches, and earrings. I make these tokens on my travels around the globe, with local materials, and transform them into a wearable piece of art. These porcelain jewelry pieces are assembled by me here in the US in my ceramics studio and every piece is unique.
This pendant is made from an American porcelain, called "Frost". It is exceptionally white and translucent. I use a 12% German gold luster for the decoration on the fired and glazed clay body.
My work references exclusive and precious porcelain wares from 18th-century Europe. I try to capture the qualities for which porcelain has been known since its discovery in China: whiteness, translucency, and resonance. I am attracted to the enameled and lustered surfaces of the Baroque, Renaissance and Rococo porcelain designs, as well as to elaborations on structural elements of these time periods. I am investigating surface decorations and embellished shapes in order to gain more knowledge for my own studio practice. I am interested in incorporating and referencing historic drawings, motives, and patterns into my work.
Get this porcelain pendant with gold luster in my SHOP