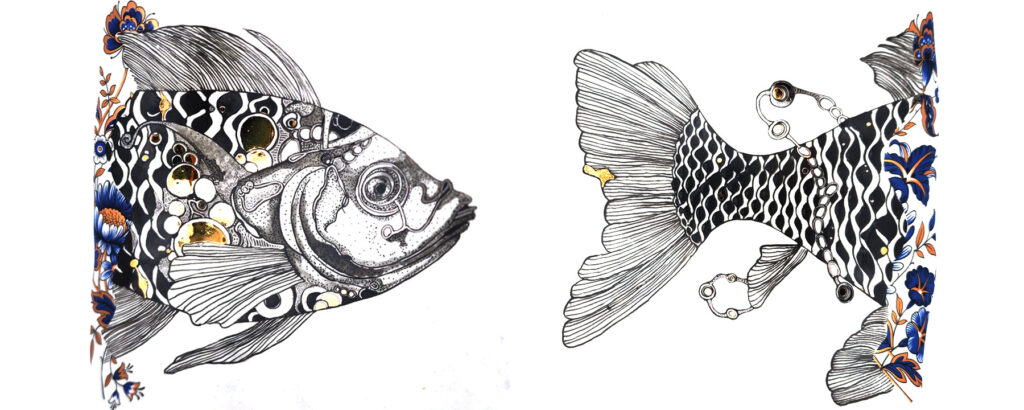 Opening Reception: Thursday, August 31st, 2023, 5-7 pm
August 31 – October 21, 2023
Bolton Davis Gallery at the
River Oaks Square Arts Center
1330 Second Street
Alexandria, LA 71301
318.473.2670 Phone
Coming up at River Oaks Square Arts Center are three amazing exhibitions showcasing the brilliance and diversity of several esteemed artists: Melanie Sherman in the Bolton-Davis Gallery, James Aubrey Bolen III in the Galerie de Amis, and Shannon Fender in the Stokes-Harris Gallery. 

A Display of Artistic Prowess at River Oaks Square
Coming up at River Oaks Square Arts Center are three amazing exhibitions showcasing the brilliance and diversity of several esteemed artists: Melanie Sherman in the Bolton-Davis Gallery, James Aubrey Bolen III in the Galerie de Amis, and Shannon Fender in the Stokes-Harris Gallery.
"In their unique way, each of these features pays homage to a traditional medium while simultaneously challenging and redefining it," says Rachael Dauzat, Executive Director at River Oaks. "They create art that speaks to us through a contemporary lens and it is the convergence of creativity and innovation that makes their work so compelling and resonant in its own right."
Melanie Sherman is set to captivate audiences with her exhibition entitled "Transitional Spaces: Navigating the In-Between" in the Bolton Davis Gallery. The Kansas City based artist is a renowned master ceramicist, who interweaves intricate patterns and lavish surface decorations to express a harmonious fusion of traditional European and Asian ceramic techniques. In her words, "I am attracted to the enameled and lustered surfaces of the Baroque, Renaissance, and Rococo porcelain designs including elaborations on structural elements…I am interested in incorporating and referencing historic drawings, motives, and patterns into my work using traditional decorating methods. My artistic focus lies in opulent surface embellishments that pay homage to the exclusive and treasured porcelain wares of 18th-century Europe." This exhibition promises a distinct perspective on historical ceramics art, demonstrating the potential for cross-cultural artistic symbiosis.
Meanwhile, our own James Aubrey Bolen III offers visitors an immersive experience into the heart of the Kisatchie National Forest with his exhibition "Saunter" in the Galerie des Amis. A devoted advocate for forest conservation and River Oaks' Artistic Director, Bolen uses his paintings to capture the splendor of these landscapes with a mission to heighten awareness. "My paintings showcase the different forest landscapes & recreational trails of the Kisatchie National Forest," says Bolen. "With the use of the pallet knife, brushes and multiple layers of vibrant colors I try to capture the beauty of this diverse environment. The main goal of my paintings is to bring awareness to the importance of our forest. My plan is to have 11 works that will recreate the feeling of walking in the forest. As John Muir said "I don't like either the word hike or the thing. People ought to saunter in the mountains-not hike." That is why I choose the title Saunter, I want people to walk in a slow, relaxed manner, without hurry or effort through this show. With this body of work, I want the viewer to receive a relaxed feeling, to almost hear the wind blowing through the pines while standing in the gallery."
In the Stokes-Harris Gallery, Shannon Fender presents "People & Places." As a passionate photographer, Fender uses her lens to portray a broad collection of people and places encountered over the years. Reflecting on her journey in photography, she shares, "When I received my first camera at 13 from my parents, I knew how special it was to capture an image… I have enjoyed the journey…I hope you enjoy this as much as I have putting this collection together of people and places over the years." Fender's exhibition promises a narrative-rich presentation that unveils her unique perspective and evocative storytelling abilities.
As part of the GAEDA Educational Series that supports River Oaks' position as the regional art educational hub, Melanie Sherman will also be conducting a workshop on "Overglaze and Cold-Finishing Techniques on the Ceramic Surface." Utilizing her international experience and masterful skill in porcelain decoration, Sherman invites students to personalize their own ceramic works with traditional image-transfer techniques. This workshop is a celebration of craft and creativity, encouraging participants to craft unique narratives through layers of ornamentation and embellishments. It provides a wonderful chance for students to engage with two- and three-dimensional elements, fostering a playful approach to the interplay of painting techniques, textures, and materials. (Intermediate to advanced student level)
The exhibitions will run from August 31 to October 21, 2023. The opening reception, scheduled for Thursday, August 31 from 5-7 pm, is free and open to the public. The exhibitions are sponsored by GAEDA, Hotel Bentley, Captivate Minds, Rapides Regional Medical Center and Red River Bank along with the LA Division of the Arts. Visitors will have the chance to meet the artists and enjoy a first look at these unique presentations.
Additionally, a special pop-up feature has been announced for the Stokes-Harris Hallway, featuring recent works from the River Oaks' Outreach Project at Regency House with instructor Laura Gates. Residents of Regency House Senior Living are encouraged to express themselves using different art techniques which has been shown to greatly enrich their lives and motivate them to explore new interests. Over the course of a year, residents meet twice a month with their instructor to explore former artistic hobbies or development new outlets of expression while welcoming new mediums. These outreach initiatives are coined the ART for ALL Program and include a variety of under-served populations within our local community.

For more information on exhibitions and the GAEDA Educational Series, call River Oaks at (318) 473-2670, visit RiverOaksArtsCenter.com or find us on Facebook.